Moog Receives Fourth Consecutive Supplier Quality Award from Raytheon's Integrated Defense Systems
East Aurora, NY, (July 22, 2019) – Moog Inc. (NYSE: MOG.A and MOG.B) Naval Systems Business Unit was recently honored with a Supplier Quality Award from Raytheon Integrated Defense Systems (IDS) Business Unit for a fourth consecutive year. Moog's AN/TPY-2 CEU Fan Motor Team was recognized for its efforts on the program at Raytheon's IDS Supplier Excellence Conference in Boston, MA. Raytheon's Integrated Defense Systems business instituted the annual Supplier Excellence Awards program to recognize suppliers who have provided outstanding service and partnership in exceeding customer requirements. Award candidates are judged on certain criteria, including overall quality and on-time delivery. Moog was one of 38 companies recognized for 3-Star honors.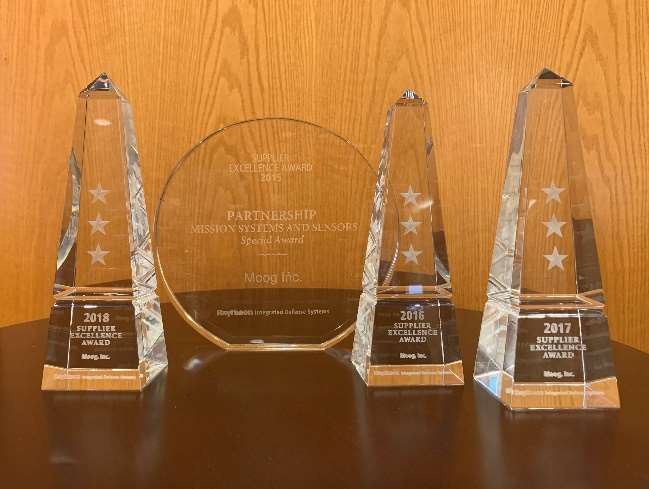 Moog AN/TPY-2 Team L to R: Nick Holmes, Dave Schifferle, Dan Rodems, Dan Rusin, Jim York, Christine Zakusylo, Matt Whitehead, Chris Strong, Duane Huels
Moog has worked with Raytheon and the Missile Defense Agency (MDA) to provide fan motors and controllers for the Cooling Equipment Unit (CEU) of the Army/Navy Transportable Radar (AN/TPY-2) since 2014. AN/TPY-2 is the radar surveillance section of the Terminal High Altitude Area Defense (THAAD) missile defense system. THAAD is a U.S. Army antiballistic missile system devised to shoot down short, medium, and intermediate range ballistic missiles in their terminal phase via a hit-to-kill methodology.
About Moog Inc.
Moog Inc. is a worldwide designer, manufacturer, and integrator of precision control components and systems. Moog's high-performance systems control military and commercial aircraft, satellites and space vehicles, launch vehicles, missiles, automated industrial machinery, marine and medical equipment. Additional information about the company can be found at www.moog.com. Additional information on Moog's Defense Business is available at www.moog.com/defense.
Contacts
Media
Amy Garrett +1 404.597.7714
Sales
Robert Hennig +1 716.601.8374