Moog Empowers China Eastern Airlines to Fly Safely
Shanghai, China, September 9, 2020 — Moog Inc. (NYSE: MOG.A and MOG.B), a designer and manufacturer of high-performance motion control products, solutions and services, has worked together with CAE, the leading manufacturer of Civil Full Flight Simulators to provide valuable local services for the China Eastern Airlines Flight Training Center. Moog's simplified service process and extraordinary responsiveness have gained considerable recognition from customers. In recent years, Moog has launched a wide range of programs in the Flight Simulation aftermarket that are designed to provide faster local services for the end users of its global customers and to improve customer satisfaction, including continual investment in its motion base service capability in China. Moog Shanghai has recently been providing a local maintenance service for electromechanical actuators used in China Eastern Airlines' flight simulators. This is yet another example of Moog's commitment to offering after-sales service to the global Flight Simulation market.
According to regulations set out by the Civil Aviation Administration of China, airline pilots must regularly train in simulators to ensure flight safety. Flight simulators are instrumental in training pilots for the Civil Aviation industry.  Full Flight Simulators provide pilots with the various sensations associated with flying, such as motion, vision, hearing and handling of the control system, to simulate an immersive, high fidelity training experience for the pilot.  These high fidelity cues make the training experience more efficient and effective for the pilot and the flight trainers. Flight simulators also serve the purpose of simulating all manner of emergency situations to prepare pilots for potential failures.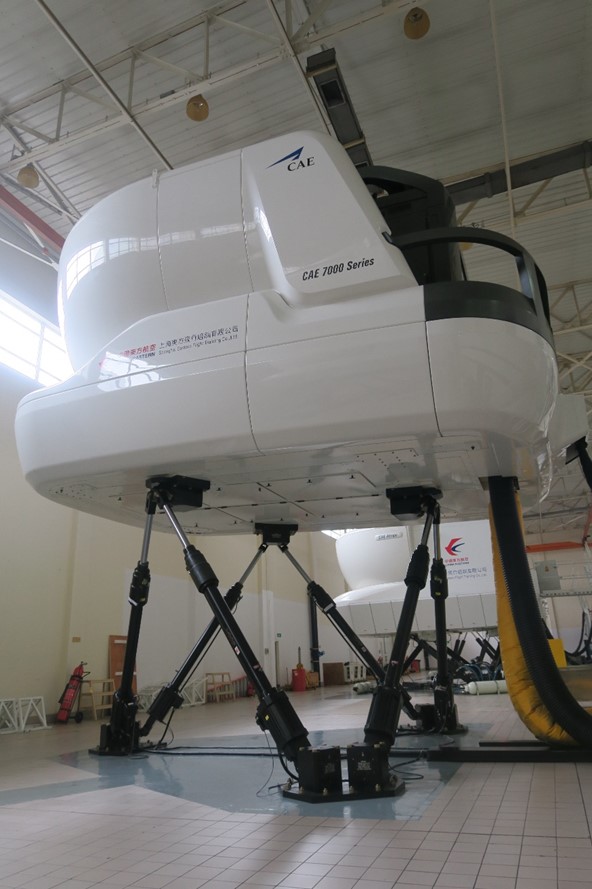 Exterior view of a flight simulator at one of China Eastern Airlines' technology, application and R&D centers.
One of China's three major state-owned air transportation groups, China Eastern Airlines, has a route network covering 1,150 destinations in 175 countries around the world. Transporting 130 million people every year, it ranks among the top ten carriers in the world in terms of passenger traffic. In order to guarantee safe flight, a leading air transportation company of this size needs a large number of pilots as well as well-functioning aircraft simulators.
China Eastern Airlines has operated Full Flight Simulators for decades, CAE has been selected by China Eastern as their vendor of choice for commercial Full Flight Simulators. Simulators delivered to China Eastern Airlines are all equipped with Moog's Electric Motion systems or products. As one of CAE's most important customers, China Eastern Airlines has also secured a key spot in Moog's customer list.
As part of Moog's initiative to improve its global after-sales service capability, Moog's China Motion System Service Center was opened in 2019. The center aims to provide fast and efficient services to Moog and CAE customers in China and to reduce downtime. Moog and CAE have provided China Eastern Airlines with repair and maintenance services for electric actuation systems, on-site technical support and remote communication and consulting services.
Mr. Zhang Yu, Aviation Material Manager of Equipment Department at China Eastern Airlines Technology, Application and R&D Center, said: "Keeping the motion base's electromechanical system up and running is key to the smooth operation of flight simulators. There is no doubt that the center contributes to the smooth running of this project. It not only greatly shortens maintenance time, but also streamlines the maintenance process in a way that satisfies customers' demands. In our daily work, we also have frequent exchanges with Moog's technical personnel on the maintenance and use of equipment. Moog has always been here to support China Eastern Airlines, with its local Chinese team that demonstrates impressive professionalism and technical competence. Whether it is equipment performance or service level, we are very satisfied. Key considerations for China Eastern will continue to include potential demand for flight training simulators, support capabilities for integrated equipment and critical subsystems."
As the main partner of most Full Flight Simulator manufacturers in the world, Moog has always been committed to providing first-class after-sales technical support for users in the global flight simulation market. Moog has also set up similar service centers in Europe and the United States. The successful cooperation between Moog/CAE and China Eastern Airlines once again testifies to Moog China's advantage in offering after-sales technical support to users in the simulation market through its decentralized global network. Moog will continue to optimize processes, and expand its presence, while continually pursuing the enhanced service ability that makes it more competitive in the market. This is how it strives to be a one-stop provider of maintenance solutions. 
About Moog Inc.
Moog Inc. is a worldwide designer, manufacturer and integrator of precision control components and systems. Moog Industrial Group designs and manufactures high performance motion control products, solutions and services combining electric, hydraulic, and hybrid technologies with expert consultative support in a range of applications in energy, industrial machinery, simulation and test markets. We help performance-driven companies to design and develop their next-generation equipment. Moog's Industrial Systems segment, with fiscal year 2019 sales of US $928 million and over 40 locations worldwide, is part of Moog Inc. (NYSE: MOG.A and MOG.B), which had fiscal year 2019 sales of US $2.9 billion. For more information, please visit. www.moogsimulation.com
---