Moog Electromechanical Actuators Cut Sway by 50 Percent for Japan Bullet Train Riders
EAST AURORA, N.Y. – May 26, 2021 – Moog Inc. (NYSE: MOG.A and MOG.B) is helping East Japan Railway Company's efforts to continually improve the comfort and stability of its Shinkansen, or bullet trains, by providing electromechanical actuators (EMAs), planetary roller screws and drive systems for the active sway control system of its E5 and E6 train series. The fully electric system reduces sway by up to 50 percent compared to past conventional pneumatic and hydraulic solutions.
Other Japanese bullet train rail companies use semi-active sway controls, relying on a variable oil damper to adjust damping force. When the East Japan Railway Company decided to increase the maximum running speed of its trains to 360 km/h (225 mph), engineers had to apply more force across a wider frequency band to reduce vibration for passengers.
"East Japan Railway has continually chosen Moog's electromechanical design because of the compactness of our control system's envelope relative to the competition," said Enrico Bagnasco, Product Content Developer for Moog. "Our EMA, or electromechanical actuator, provides faster responses and higher thrust. Replacing old oleo-pneumatic sway control systems with less cumbersome electromechanical ones also drastically improves reliability and makes them easier and quicker to maintain."
How It Works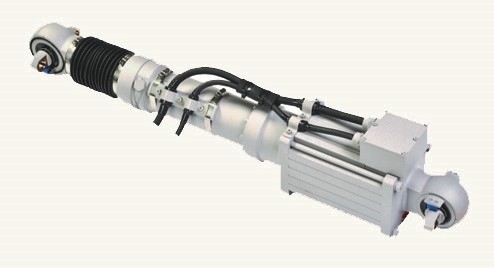 Moog's EMA (Electromechanical Actuator)
In the current systems, when an accelerometer detects lateral sway of a train carriage due to the rails, air flow and other factors, the appropriate thrust to counter the sway is calculated. Then, a Moog drive sends a signal to a Moog motor inside the EMA that applies it rapidly and precisely. Each wheel truck (i.e. the bogie or chassis with two axles, four wheels) on the train has one EMA and a passive damper to attenuate lateral vibration.
"Moog prides itself on being technology-neutral, as we possess a deep know-how of all the strengths and weaknesses of different motion technologies," added Bagnasco.
 "This is absolutely critical when choosing a partner that will help you switch from one technology to another. Our longstanding relationship with Japan Railway East and the ongoing success of Moog products on board their trains prove it beyond doubt."
About Moog Inc.
Moog Inc. is a worldwide designer, manufacturer and integrator of precision control components and systems. Moog Industrial Group designs and manufactures high performance motion control products, solutions and services combining electric, hydraulic, and hybrid technologies with expert consultative support in a range of applications in energy, industrial machinery, simulation and test markets. We help performance-driven companies to design and develop their next-generation equipment. Moog Industrial Group, with fiscal year 2020 sales of US $909 million and over 40 locations worldwide, is part of Moog Inc. (NYSE: MOG.A and MOG.B), which had sales of US $2.9 billion. For more information, please visit www.Moog.com
Media Contact:
Enrico Bagnasco, Product Content Developer
ebagnasco@moog.com
# # #