Moog Adds New Features To Next-Gen Test Controller For Lab Managers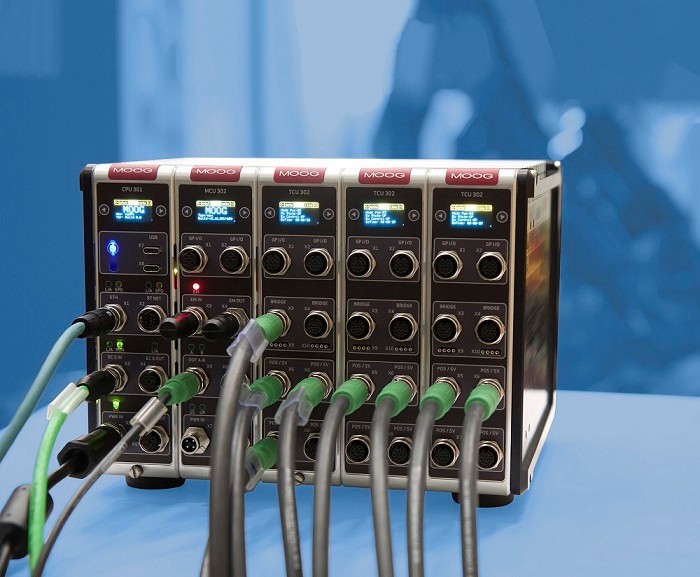 Stuttgart – June 16, 2022 – From June 21-23, 2022, at the Automotive Testing Expo in Stuttgart, Moog (booth #1754) will display its next-generation test controller, which will help test lab managers unlock even more data about their test specimens. The Moog test controller is a 1- to 32-channel, real-time modular system that can control or collect data from any hydraulic or electric test system. Among the new features that Moog has added this year are:
Advanced control algorithms 
Data analysis and viewing tools 
Flexible hardware interfaces 
A report generator
The Moog test controller product family includes a wide range of modules for high precision control and collection of data and providing alternate control paths. The test controller provides manifold control for pressure in hydraulic systems along with closed-loop control of servo-hydraulic systems using actuation with force and/or position feedback. Additionally, the test controller product family includes a General-Purpose Input/Output Unit (GPIOU) that provides a channel density of 8 differential analog input and analog output channels as well as 16 digital input and digital outputs. Test lab managers and technicians can configure these for control, data acquisition, or triggering actions during test sequences.
The Moog test controller also has a built-in kinematics module that provides degree-of-freedom control of hexapod (or other orthogonal) configurations to improve control of legacy or new simulation tables.

About Moog
Moog Inc. (NYSE: MOG.A and MOG.B) is a worldwide designer, manufacturer and integrator of precision control components and systems. Moog's Industrial Controls segment designs and manufactures high performance motion control products, solutions and services combining electric, hydraulic, and hybrid technologies with expert consultative support in a range of applications in energy, industrial machinery, simulation and test markets. We help performance-driven companies to design and develop their next-generation equipment. Moog Industrial Controls segment, which had fiscal year 2021 sales of US $892 million and has over 40 locations worldwide, is part of Moog Inc., which had fiscal year 2021 sales of US $2.9 billion. For more information, please visit www.moog.com and the Test Controller web page.