Rigid and Flexible Tape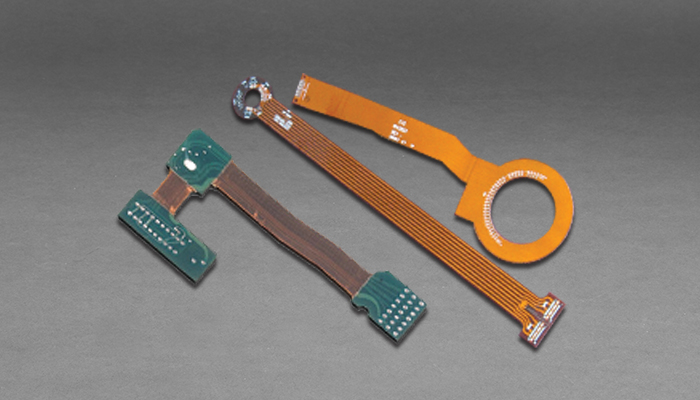 Flex circuits are made from non-conductive materials such as polyimide where conductive pathways are etched from copper sheets and then laminated together to form the final product. Although flex circuits were originally designed to replace bulky wiring harnesses, they also provide an alternative to the rigid board where weight and thickness reduction are of utmost importance. Flexible circuit boards offer more compact packaging which in turn resolves space and weight issues. Smaller and neater assemblies are more aesthetically pleasing to potential customers. 
Flexible circuit boards provide mechanical support as well as electrical connections. The flexibility and durability of the material allows for dynamic flexing without risking the integrity of the traces.

Flex allows engineers the ability to miniaturize circuits and increase functional capacity providing better impedance control. Flexible circuits also offer thermal management for high temperature applications by dispersing heat at a faster rate than other dielectric materials.
Flexible circuit boards reduce cost and labor of assembly as they can eliminate connectors and solder joints installation and maintenance for flexible circuits are also more convenient and cost effective.
As flexible circuits can simplify the overall design, there is a reduced risk of wiring errors. Flex ranges widely in complexity and therefore can be used for virtually any product.
FEATURES
Higher circuit density
Flexibility
Reduces wiring errors
Improved impedance control and reliability
Replaces wire harnesses and allows more compact packaging (resolves space and weight issues)
Reduces assembly cost
Can be used for high temperature applications/thermal management
Improved thermal resistance
Consistent thickness
Dynamic flexing
Stronger signal quality
More aesthetically pleasing
Increased functional capacity
TYPICAL APPLICATIONS
Consumer Appliances
Computers
Cell Phones
Televisions
Satellites
Radars
Rotary Aircraft
Navigation Systems
Automotive Systems
Manufacturing Capabilities
Description
Specifications
Specifications Referenced (Flex)
- IPC-6013, Class 2 and 3
- MIL-P-50884 certified
Current Technologies
- Single sided flex with single and double barred cover-lay openings
- Double sided flex circuits with or without stiffeners
- Multi-layer flex circuits with or without stiffeners
- Rigid flex circuits
Materials Available
Dupont® LF series
- IPC class 2 and 3
- Modified acrylic adhesive and Kapton® film RA or ED copper
- No UL flame rating
Dupont® AP series
- IPC class 2 and 3
- Adhesiveless and Kapton® film
- RA or ED copper
- UL94 V-0 flame rating
Manufacturing Capabilities
- Flex - up to 3 oz. internal and external weight
- Rigid Flex - up to 3 oz. internal copper weight and 6 oz. external copper weight
- .005 inch / .005 inch trace / space
- .003 inch / .003 inch review
- .006 smallest plated through hole
- Plasma desmear
- Technician level employees throughout the plant
- Polar instruments, impedance calculators and equipment
- Laser ablation, skiving and routing technology through the use of our Excellon Cobra V1000 UV / CO2 Laser
Manufacturing Lead Times
- Standard delivery of 20 days or less
- Expediting delivery as quick as 5 to 10 days
Resources