Data Reliability with Slip Rings in Construction Equipment
March 4, 2019
Learn how slip rings deliver data transmission in the toughest environments and what matters most when choosing your next slip ring.
Today, construction operations rely on high-speed data transmission to share and receive critical data and communications. However, harsh construction environments may interfere with your transmission when it matters most. With the proper design, construction slip rings deliver robust bandwidth support for data transmission you can count on.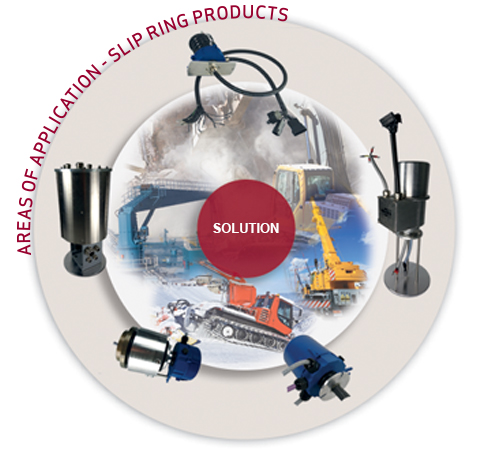 How Slip Rings Deliver Data

Slip rings transmit data through circuits produced by electrical contacts. These circuits need consistent, low-resistance contact in order to yield optimally low Bit Error Rates (BERs). BERs measure the quality of data transmission: the lower the BER, the better the quality of your data transmission. They increase when there are intermittent, open or high-resistance circuits caused by wear and/or contamination from sand, dust, hydraulic oil and humidity.
Engineering Optimal Slip Ring Performance

To maintain low BERs, slip rings require excellent design, materials, and a tough exterior. Specific design needs depend on a number of factors including equipment type, data transmission usage, jobsite environment(s), and more. Nonetheless, these considerations should be at the core of your checklist when choosing your next slip ring:
Tough Exterior
One of the leading causes of slip ring failure is insufficient protection of electrical contacts from external contamination, extreme weather conditions, and/or excessive vibration. To prevent slip ring failure, the component's external housing must include the following features:
An external housing that is rugged and stiff housing, but not excessively heavy, as well as corrosion and fungus resistant

Environmental sealing to the appropriate International Protection (IP) standard, which is normally IP 65 or 66, depending on the operating environment
A maintenance-free bearing design to survive all environmental requirements
The ability to operate within a temperature range of -40°C to +80°C (-40°F to 176°F) and a humidity range of 0 and 100% Relative Humidity (RH)
The housing must survive the shock and vibration levels imposed by construction equipment without significant degradation
Durable Design
Other important design considerations include contact redundancy and relative brush mass. More points of electrical contact improve BERs and the durability of the internal structure, while an appropriate brush design and mass will withstand shock and vibrations without compromising efficiency. Moreover, effective circuit placement is necessary to ensure consistent data transmission and eliminate crosstalk.
Industry Applications

Slip rings can be used in material handling applications with construction equipment such as diggers, port and mobile cranes, turntable ladder vehicles, and elevating platforms. They allow equipment to communicate with, and provide power to, cabs and rotating platforms. Slip rings can also transmit both analog and digital video, as well as a wide range of data communication protocols:
CAN Bus
RS-485
RS-422
Ethernet - both 100BaseT and 1000BaseT
PROFIBUS™ and more

Choosing Your Slip Ring
For maximum reliability, choose slip rings with a rugged external housing that is capable of withstanding extreme environmental factors. Look for components with corrosion-resistant materials (i.e., noble metals), and electrical design that accounts for potential crosstalk as well as shock and vibration from your machine.
Why Moog?
As the world's largest slip ring supplier and a driver of innovative engineering, we offer unmatched quality, dependability, and cost-effective system solutions. Our slip rings can be customized to your needs and undergo rigorous testing to ensure optimal, long-lasting performance.
---
Share this Blog:
---
Learn More
Read our white paper on data reliability with construction equipment slip rings.