Moog Extends its Electrohydrostatic Pump Unit Offering with More Sizes and Available Options
The product family now includes size 140 cc to help machine builders address a wider range of applications
15 February 2019
Moog Industrial Group has enlarged and completed its product range of Electrohydrostatic Pump Units (EPU) with the addition of a size 140 cc EPU that will help customers address a wider range of applications.This new product will offer the same high levels of efficiency while also having high force capability as the existing product family.
With product sizes ranging from 19 to 250 cc, the EPU product series offers a modular approach that will help customers choose the best product to fit their application requirements. Moog now offers more performance ranges and cooling options across all five EPU sizes. The product family now also offers either constant or dual displacement pumps, depending on which version best fits application requirements. The EPU is suitable for use across a number of industrial applications including: metal forming and presses, heavy industry, power generation and the marine sector.
With a decentralized drive system, the EPU eliminates the need for a hydraulic power unit (HPU) or complex piping, both of which reduce the overall production machinery footprint. Its compact design features a unique interface that permits direct mounting on a cylinder. This minimizes any requirement for additional space on each axis. In turn, this feature renders installation and maintenance easier, thus lowering the total cost of ownership.
"Our product portfolio expansion offers machine builders new possibilities that will help them address a wider range of applications," notes Achim Helbig, Innovation Manager at Moog. "Customers now request many product sizes and flexible options, and this permits machine designers to use our EPU across a range of different machines."
The EPU forms the heart of Moog's Electrohydrostatic Actuation Systems (EAS), which constitutes a compact alternative to traditional electrohydraulic or electromechanical actuation technology used on applications with high force requirements. Moog's EAS is a modular actuation system comprised of the EPU, a Servo Drive, a manifold and an optional cylinder.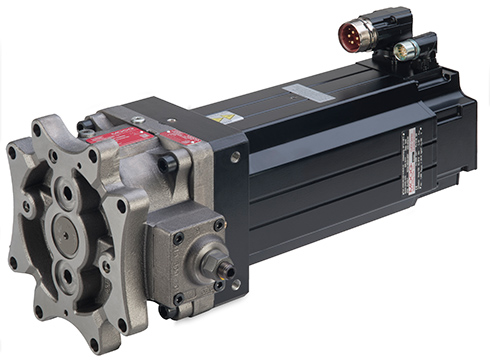 Caption: Moog adds 140 cc size Electrohydrostatic Pump Units (EPU) to help customers address a wider range of applications