The New Moog Modular Electrohydrostatic Actuation System (EAS) Combines the Best of Two Worlds: Electrohydraulic (EH) and Electromechanical (EM) Actuation
East Aurora, NY, USA, October 22, 2020 – Moog Industrial Group, a division of Moog Inc., (NYSE: MOG.A and MOG.B) today announced the market introduction of the new Modular EAS System. The Modular EAS is a highly flexible system with excellent scalability and variability and can be easily adapted to most types of industrial manufacturing machinery.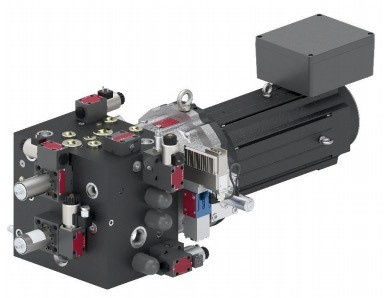 Moog Modular Electrohydrostatic Actuation System (Modular EAS). (Photo Moog, MGPR2002)
Standardized Modular EAS Solution
The Moog Modular Electrohydrostatic Actuation System (Modular EAS) features standardized modules with a wide number of customization options available. This process allows for extensive application potential by meeting the specific requirements of the customer. The system's smallest scope of delivery consists of a basic manifold and an Electrohydrostatic Pump Unit (EPU) which Moog delivers as an assembled and tested unit.
To expand the system, the basic module can be combined t with various options or adapted with additional standardized high-speed manifolds in order to build a complete motion control system. With the Modular EAS System the localized power allows for improved energy efficiency due to the elimination of the flow control valving and centralized piping, which reduces the amount of wasted energy commonly found on traditional hydraulic systems.
Modular EAS Benefits
• High force capability and force density that provide a compact and performant alternative to EH and EM actuation
• Environmentally clean due to up to 90% lower oil requirement compared to the standard systems and low noise emission for quiet machine operation
• Small number of components to reduce the risk of breakdown and allow for faster maintenance
• Decentralized system that eliminates the need for a large Hydraulic Power Unit (HPU) and reduces piping
• 4-quadrant operation technology allows for universal suitability for a large range of challenging applications as well as for effective energy management with reduced consumption due to energy recuperation
• Low mass inertia of the EPU provides high system dynamics
Applications
The Modular EAS System is suitable for a wide range of industrial manufacturing machinery. It can be used on metal pressing applications from forging, powder and sheet metal presses to hot forming, punching and isostatic press machines. In wood and paper milling, testing and power generation applications the Modular EAS System allows for improved decentralization of the machine axes. Additional high-performance applications can be realised in the industrial marine sector, on operational mobile machinery and on injection and blow molding machinery in the plastics sector. The system simultaneously reduces oil requirements for HPU by 90%, thereby reducing machine cost of ownership significantly
About Moog Inc.
Moog Inc. is a leading global designer, manufacturer and integrator of precision control components and systems. Moog Industrial Group, a division of Moog Inc., provides electrical, hydraulic and hybrid drive solutions for industrial applications. The Moog experts support companies in the fields of metal forming, plastics processing, power generation, marine, testing and simulation in the development of future-proof machines. Moog Inc. (NYSE: MOG.A and MOG.B) sales were $ 2.9 billion in fiscal 2019. Moog Industrial Group with over 40 locations worldwide generated sales of $ 918 million.  For more information, please visit. www.moog.com/
# # #
For more information about this project
Please visit: http://www.mooginfo.com/ModularEAS
Note for editors
For more information, please contact:
Moog                                                 EMG
Fabrizio Brandi                                 Rita Verschuuren
E-mail: fbrandi@moog.com            E-mail: rverschuuren@emg-marcom.com
                                                            Tel: +31 164 317 024
This press release and relevant photography can be downloaded from www.PressReleaseFinder.com.
Alternatively for very high resolution pictures please contact Rita Verschuuren (rverschuuren@emg-marcom.com, +31 164 317 024).