Model 292RA
TWO CHANNEL RIGHT ANGLE FIBER OPTIC ROTARY JOINT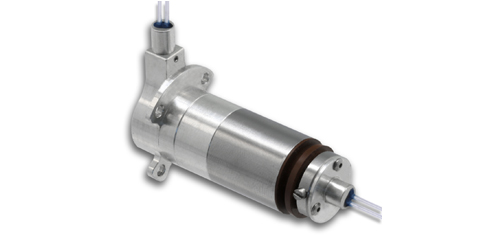 The Model 292RA is an ultra-compact,  two-channel, multimode passive fiber optic rotary joint (FORJ) with a flange-mounted fiber axis 90 degrees from the axis of rotation and a shaft-mounted fiber axis coincident with the axis of rotation. The FORJ permits transfer of 850 nm wavelength optical signals from VCSEL sources on two separate optical fibers across rotational interfaces, where one optical fiber may carry bidirectional signals and the second optical fiber must carry signals launched into the flange-mounted fiber.
The Model 292RA can be combined with our electrical and fluid slip rings, giving a single, compact package for optical signals, electrical power and fluid transfer.
The FORJ can be assembled with pigtails lengths tailored to the customer's application. Housing, mounting flange and drive features can also be customized to meet the customer's requirements. The Model 292RA is ideal for installations with little clearance space requiring a bidirectional duplex fiber connection across a rotating interface.
Features and Benefits
Provides rotary coupling for two multimode fibers
Can be combined with various electrical slip rings and fluid unions
Smaller in size and mass compared to the standard Model 292 FORJ
Right angle fiber entries on flange mounting side of FORJ
Customized mounting flanges available
Can be integrated into existing slip ring designs
Stainless steel and aluminum housing for reduced mass
Long life
Rugged design

DEF STAN 00-35 tracked vehicle vibration
DEF STAN 00-35 shock (500g)
FO292RA Specifications
Fiber Size (Microns)
50 / 125 (OPM2), 62.5 / 12.5 (OM1). Consult factory for other sizes
Insertion Loss
Channel 1: Typical <=1.5 dB, Maximum <=5.5 dB Bidirectional
Channel 2: Typical <=4.5 dB, Maximum <=5.5 dB
Right angle flange side launch only
Rotation Variation
Channel 1: Typical <=0.5 dB, Maximum <=1.5 dB
Channel 2: Typical <=1.0 dB, Maximum <=1.5 dB
Back Reflection
Typical 20 dB, 18 dB Minimum
Wavelengths
850 nm. Consult factory for extended range
Rotational Speeds
To 500 rpm. Higher rotational speeds should be discussed with the factory
Temperature
-46°C per DEF STAN 00-35 Part 3 Issue 4 Method CL5
+71°C per DEF STAN 00-35 Part 3 Issue 4 Method CL2
Vibration
Per DEF STAN 00-35 Part 3 Issue 4 Method M1 Figure A22
Shock
Per DEF STAN 00-35 Part 3 Issue 4 Method M3 500g/1ms/half-sine
Terminations
Pigtailed with cable and connectors to meet customer's requirements
Pigtail Length
Up to 3 meters standard. Consult factory for longer lengths
Note
Optical values given are based on use with 850 nm VCSEL sources
 
Technical Support
Telephone:  +1-902-468-2263

Typical Applications
Sensor platforms
Turrets
Video surveillance systems
Remote I/O in industrial machinery
Material handling systems
Robots
Winches and cable reels for remotely operated vehicles