Moog to Exhibit the Reconfigurable Integrated-weapons Platform (RIwP) Turret at AUSA 2018
East Aurora, NY (Oct 05, 2018) – Moog Inc. (NYSE: MOG.A and MOG.B) Space and Defense Group will showcase its RIwP to roughly 30,000 attendees at the Association of the United States Army (AUSA) 2018 Annual Meeting and Exposition in Washington, DC. The RIwP is a flexible, scalable remote turret that provides commanders with more than 125 weapon configurations to ensure overmatch and enhanced lethality against current and emerging threats across the full spectrum of conflict.  The RIwP will be on display October 8-10 in Booth #8615.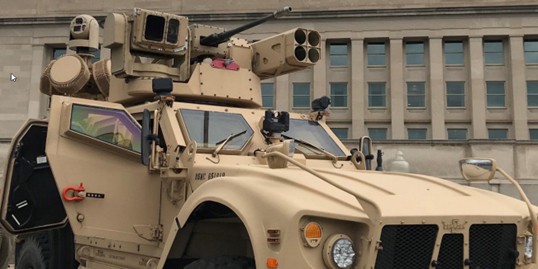 Moog's RIwP display will be configured with the M230LF (30mm), 7.62mm coaxial machinegun, a Stinger four pack, a dual-stack of Longbow HELLFIRE and the MX-GCS sensor. RIwP is the centerpiece of teammate Leonardo DRS' counter-unmanned aerial system (C-UAS) kinetic defeat and maneuver short-range air defense (M-SHORAD) capabilities currently on contract with the U.S. Army and United States Marines Corps, respectively. 
AUSA 2018, will be held at the Walter E. Washington Convention Center in Washington, DC. It is the largest land warfare tradeshow in North America. This show provides military and industry with access to professional development, networking opportunities, and access to a large concentration of machinery, tools and technologies up close on the show floor. The RIwP will be one of more than 700 displays at this year's show.
Additional images and video available:  www.moog.com/riwp
About Moog Inc.
Moog Inc. is a worldwide designer, manufacturer, and integrator of precision control components and systems. Moog high-performance systems control military and commercial aircraft, satellites and space vehicles, launch vehicles, missiles, automated industrial machinery, and marine products. Additional information about the company can be found at www.moog.com. Additional information about the Moog Defense Sector can be found at www.moog.com/defense. 
Contacts
Marketing: +1 404.597.7714
Business Development: +1 805.453.2848