Moog Focal Introduces New 2-Channel Singlemode Fiber Optic Rotary Joint
August 6, 2018

Moog Focal is pleased to announce the launch of its Model 319 2-channel singlemode Fiber Optic Rotary Joint (FORJ). The Model 319 is designed to transfer multiple high data rate optical signals across a rotating fiber optic interface, and can be used in stand-alone applications or integrated as a sub-assembly into larger electrical and fluid slip ring assemblies. The Model 319 design has been optimized to offer impressive technical performance at a much lower cost compared to the existing dual channel singlemode FORJ options.
The Model 319 is ideal for challenging dual channel fiber optic communication applications that require a rotary interface and can also be used in single channel applications that require a back-up communication channel. Its innovative and independent cell design prevents the catastrophic failure scenario of both communication channels if one of the channels fails. 
The Model 319 can easily be integrated with Moog Focal Electrical Slip Rings and Fluid Rotary Unions, including Hazloc applications to create tailored slip ring solutions. Its ruggedized design has been tested and qualified to MIL-STD-167-1 vibration and MIL-STD-810 functional shock standards. The first order has been supplied to MacArtney Canada and integrated into a deck winch being used for a hybrid electro-optical system.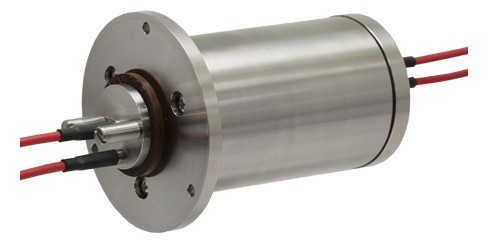 Maurice Fraser, Moog Focal Sales Manager, Europe commented "The Model 319 is a great example of our strategy to provide a more cost effective solution for our customers without compromising technical performance or risking the long term reliability of our products. I'm confident that the Model 319 will break new ground and generate a lot of interest in the subsea, marine, oil & gas, defense, energy and industrial markets."
About Focal Technologies

Focal Technologies, a Moog Inc. Company, (NYSE: MOG.A and MOG.B), specializes in providing electrical slip rings, fiber optic rotary joints, hydraulic utility swivels, fiber optic multiplexers, and subsea communication solutions for the worldwide marine industry including ROV, oil and gas, seismic, FPSO turret and oceanographic applications.
For more information about Focal products, visit www.moog.com/focal. 
About Moog

Moog Inc. is a worldwide designer, manufacturer and integrator of precision control components and systems. Moog Industrial Group designs and manufactures highly reliable products and solutions using motion control and power/data technologies. We combine world-class technologies with expert consultative service in a range of applications in, industrial machinery, marine, energy, medical, simulation, and test industries, to name a few. We help performance-driven companies to design and develop their next-generation equipment. Moog Industrial Group, with fiscal year 2017 sales of $843 million and over 40 locations worldwide, is part of Moog Inc. (NYSE:MOG.A and MOG.B), which has sales of US $2.5 billion. For more information, please visit www.moog.com/industrial.