Simplifying Integration of Motion Components into Assemblies
Moog's unique product offering of motion technology (slip rings, motors, resolvers, drives and actuators) and fiber optic products provide the capital assets and engineering capabilities to design, manufacture and integrate these discrete products into an integrated gimbaled mechanism. In today's business environment, where many corporate strategies are to focus on core competencies, let Moog take the design and integration of these discrete components into fully functional and tested subassemblies that are ready for installation into the end-item assembly. Should your strategy be to outsource these assemblies on a build-to-print basis, we are ready to apply our resources so you can achieve those goals, too.
Our integrated assemblies range from simple combinations of slip rings and resolvers to sophisticated electromechanical assemblies including the motor, drive electronics, fiber optic rotary joints, hydraulic and pneumatic swivels and RF rotary joints. We also offer and provide fully integrated servo and utility actuators complete with precision gearing, clutches, brakes and closed-loop control electronics.
Our business strategy is simple, let Moog focus on what we do best so our customer can focus on what they do best. This strategy provides our customers with many measurable benefits.
System Optimization

Moog has significant experience in mechanical packaging of rotary components.  We ensure robustness while tightly packaging, thus ensuring we meet minimal volume and weight requirements. We understand how our rotary components react to each other and can position these products within the assembly to optimize performance.
Successful Solutions
With all military and aerospace programs, a heritage of program success is essential. Moog has successfully provided integrated mechanisms to many mission critical programs.
Product Announcement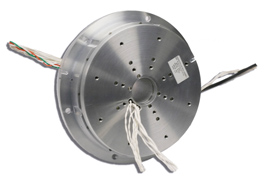 Moog's AC7332 rotary gimbal stage is designed to support most payloads without the need for an external bearing system, thus reducing set-up time, minimizing system space and weight, simplifying the installation process.

Visit the Blog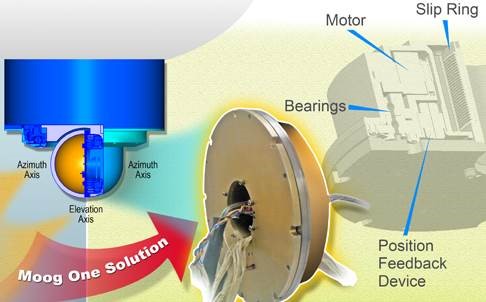 Browse Moog's integrated motion assembly success stories to learn how our customers have benefited from working with our engineering experts...

Integrated Motion Assembly Case
Challenge: Customer needed a two-axis mechanical gimbal assembly that can be slewed and pointed at an incoming threat.  It must meet airborne environment requirements and have minimum space and weight.
Solution: Moog provided structures that integrated motors, resolvers and slip rings into custom structures with bearings and seals.  The solution met all requirements of minimal slew time with a combined mass of less than 20 lbs while operating in various airborne environments.