Reliability, flexibility are hallmarks of new Moog Test Controller
EAST AURORA, N.Y. – December 16, 2021 – For manufacturers, suppliers and test labs looking for a test controller that offers more flexibility, reliability, and safety, Moog developed its new Moog Test Controller, a 1- to 500-channel system that controls and collects data from any hydraulic or electric test rig. Moog's engineers designed the controller for tests including airframe components, automotive sub-assemblies, engine components, and full-scale structural checks.
"The Test Controller core modules are identical hardware for traditional automotive and aerospace applications, so we simply call it the Moog Test Controller," said Craig Lukomski, product market manager for Simulation and Test at Moog. "Lab managers can select customized hardware accessories and one of two controller software packages, either the Moog Integrated Test Suite for a variety of markets or the Moog Aerospace Test Suite for the aerospace industry."
Flexibility and precision

"We've put more into a footprint that's 50 percent smaller than prior designs, and we've actually attained a much higher control loop rate—up to five kilohertz," said Jeff Townley, senior applications engineer and sales manager for Moog. "The heart of the system is what we call the 'real-time front end,' which we scaled up from previous generations to calculate more data in the loop."

Processing much larger chunks of data translates into comprehensive data analysis and reporting, 24-bit resolution, and high signal quality that engineers and technicians can tap to track the smallest details for precise control. Townley says test lab managers can also use the new controller to run anything from a one-channel assessment up to a full-scale fatigue test, which could exceed hundreds of channels operating synchronously. 
The new Test Controller's design lets test lab managers easily choose between a centralized or distributed set up. With a centralized set up, they can locate their controls in the same room, running cables out to actuators on the test article. In the latter case, they can distribute the channels around the test rig and minimize the length of each cable by running only one or two cables back to a control room.
"Fewer, shorter cables mean better signal ratios and less expense," added Townley.
"Our test controller lets engineers be engineers because they have scripting capabilities at their fingertips to customize what they need," said Wim van Deventer, global aerospace test consultant for Moog.
History of reliability
Since the 1990s, Moog has sold more than 1,800 test systems, including test controllers, hydraulic service manifolds, distribution manifolds, actuators, and servo valves. The test controllers and systems have proven to last decades with minimal downtime, and the real-time control software had its genesis in Fokker aircraft's auto pilot software.
Doubling down on safety
With the Moog Test Controller's hardware and software, Moog offers several layers of redundant safety features to keep test articles safe. Traditional dual-bridge load cells provide redundant data, and if a force occurs outside the preset safety limits for a channel, the test operator can safely bring the test down and inspect.

"If you want to change the number of channels, you don't have to reconfigure them and adjust the safety lines, which could take up to an hour of set up," noted van Deventer. "Now, you just change the configuration in either our Aerospace Test Suite software or Integrated Test Suite software."
For test lab managers at aircraft manufacturers or start-up firms who want even more than a test controller, Moog can provide the know-how and components to design, install, or upgrade a test system.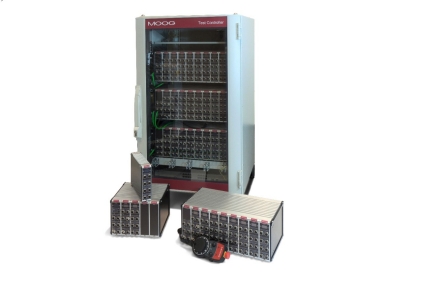 Moog's Family of Test Controllers
---
About Moog Inc.

Moog Inc. is a worldwide designer, manufacturer and integrator of precision control components and systems. Moog Industrial Group designs and manufactures high performance motion control products, solutions and services combining electric, hydraulic, and hybrid technologies with expert consultative support in a range of applications in energy, industrial machinery, simulation, and test markets. We help performance-driven companies to design and develop their next-generation equipment. Moog Industrial Group, with fiscal year 2021 sales of US $892 million and over 40 locations worldwide, is part of Moog Inc. (NYSE: MOG.A and MOG.B), which had fiscal year 2021 sales of US $2.9 billion. For more information, please visit www.moog.com and www.moogsimulation.com. For career opportunities, go to www.moog.com/careers.


---