Successful Solutions

With all military and aerospace programs, a heritage of program success is essential. Moog has successfully provided integrated mechanisms to many mission critical programs including the following:
Platform / Integrated Assemblies
Helicopter
Slip ring, resolver and RF rotary joint;
Twist cap and resolver
Rotocraft
Slip ring, resolver and monopole sensor
Armored Vehicle
Slip ring, resolver, R-to-D network, hydraulic and pneumatic swivel, and power distribution;
Slip ring, encoder and pneumatic swivel
Radar
Slip ring, motor, resolver, motor control and drive electronics, and 2-channel fiber optic rotary joint;
Slip ring, digital resolver, motor and bull-gear;
Servo actuator, motor and drive electronics
Countermeasures for Aircraft
(Azimuth Assembly) motor, resolver, bearing, structure (elevation assembly) slip ring, motor, resolver, bearing, structure
Primary Flight Control
Motor, resolver, brake, shaft, bearing, structure
Satellite Mechanism
Motor, ball screw and balanced weight
Solar Array Drive
Slip ring, motor, harmonic drive and potentiometer;
Slip ring, motor and resolver
(Examples of Completed Projects)
Visit the Blog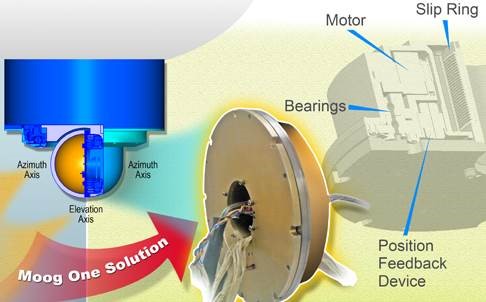 Browse Moog's integrated motion assembly success stories to learn how our customers have benefited from working with our engineering experts...

Integrated Motion Assembly Case
Challenge: Customer needed a two-axis mechanical gimbal assembly that can be slewed and pointed at an incoming threat.  It must meet airborne environment requirements and have minimum space and weight.
Solution: Moog provided structures that integrated motors, resolvers and slip rings into custom structures with bearings and seals.  The solution met all requirements of minimal slew time with a combined mass of less than 20 lbs while operating in various airborne environments.