System Optimization

Optimized systems that operate at peak performance
Tolerance stack up can rob magnetic and electromechanical designs of their intended performance capabilities. Maintaining air gap and mechanical tolerances are critical in precision electromechanical mechanisms. Even though the discrete components fall within specified tolerances, tolerance stack up may result in system performance problems. The end result is costly system redesign, component matching or assembly shimming for each item produced.
When a single manufacturer of these magnetic and electromechanical components has this responsibility, these issues can be offset with optimized processing of the discrete components ensuring a final assembly optimized for performance, electrically and mechanically aligned and fully tested.
System design can often be optimized when a single manufacturer can conduct trade-off studies of the various components. Within a given mechanical envelop, space can be optimized, total component count reduced and structures sculpted with an end result of increased MTBF and reduced end-item weight.
Resource Optimization
This approach ensures system engineers are focused on the system, not its components. By optimizing and focusing engineering resources, program risks are minimized, schedules maintained and costs reduced. Additionally, overhead costs are reduced by eliminating the manpower of soliciting multiple contractors and resulting contract administration, multiple incoming inspections of discreet components and the resulting expenses of pulling and distributing component kits. Additional program costs are saved by eliminating the need of holding multiple design reviews at different locations, multiple qualification tests and the review and approval of their related documents.
Accountability
You are assured that all system components are integrated properly and a fully tested end-item assembly is delivered. And, in the rare case that a technical problem should occur, you know exactly who to call for immediate help.
Visit the Blog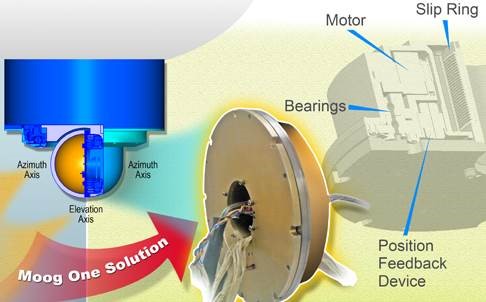 Browse Moog's integrated motion assembly success stories to learn how our customers have benefited from working with our engineering experts...

Integrated Motion Assembly Case
Challenge: Customer needed a two-axis mechanical gimbal assembly that can be slewed and pointed at an incoming threat.  It must meet airborne environment requirements and have minimum space and weight.
Solution: Moog provided structures that integrated motors, resolvers and slip rings into custom structures with bearings and seals.  The solution met all requirements of minimal slew time with a combined mass of less than 20 lbs while operating in various airborne environments.