Moog Focal Expands Subsea Oilfield Communications Product Line
July 17, 2017
Halifax, Nova Scotia, Canada – Moog Focal is pleased to announce the successful qualification and release of the Quad Serial Server (QSS) module.  This product combines a 4-channel serial server with integrated 3-port Ethernet switch on a single 3U Eurocard to seamlessly integrate serial interface sensors with modern Ethernet-based control systems.  It also enable transmission of Ethernet data over legacy serial telemetry links. The low power, space efficiency, and remote configurability of the QSS facilitates subsea integration and significantly reducing costs of subsea upgrades and new developments.
The QSS has extra connectors for modular expansion, enabling the addition of more serial ports, 4‑20 mA channels, and fault-tolerant CAN Bus interfaces.  This product is unique in its class, interfacing with all types of SIIS level 1, 2, 3, and IWIS compatible data interfaces. Extensive conversion features include Modbus RTU to Modbus TCP, serial to UDP, and IWIS PPP to IP.  These modes are independently set for each serial server channel to provide many flexible gateway configurations.
The Model 922 family of Moog Focal products are specifically designed and qualified for permanent subsea installation and address key application requirements expected of subsea projects, including API 17F and ISO 13628-6 standards. As stock products, Model 922 cards significantly reduce customer costs for product lifecycle management, including BOM maintenance, part traceability, part obsolescence, and qualification cycles.  Products can also be supplied with industry standard or custom Environmental Stress Screening (ESS). 
Based on field-proven designs for a service life of over 20 years, these highly reliable subsea communication modules are optimized to safely and efficiently control a wide range of subsea applications from Blowout Preventer (BOP) controls to subsea processing and well-head instrumentation.
Deepak Jagannathan, Subsea Controls Product Leader and Senior Electronics Engineer for Moog Focal  says, "The release of the QSS supports the technology trend towards developing smarter subsea systems with a growing demand for higher bandwidth communication solutions over longer distances. In addition to the release of the QSS, we anticipate the introduction of more complimentary modules shortly that will provide a comprehensive portfolio of Subsea Oilfield Communication products."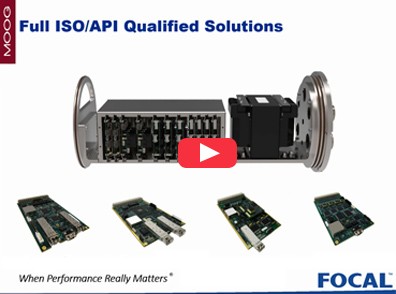 About Focal Technologies
Focal Technologies, a Moog Inc. Company, (NYSE: MOG.A and MOG.B), specializes in providing electrical slip rings, fiber optic rotary joints, hydraulic utility swivels, fiber optic multiplexers, and subsea communication solutions for the worldwide marine industry including ROV, oil and gas, seismic, FPSO turret and oceanographic applications.
Product features include hybrid packages that combine fiber, electrical, and fluid rotary joints for harsh environments, explosion proof / flameproof for hazardous locations and adaptation to customer's size and mounting constraints.
For more information about Focal products, visit www.moog.com/focal. 
About Moog

Moog Inc. is a worldwide designer, manufacturer, and integrator of precision control components and systems.  Moog's high performance systems control military and commercial aircraft, satellites and space vehicles, launch vehicles, missiles, automated industrial machinery, wind energy, marine and medical equipment.