Large Diameter Slip Rings

Large diameter slip rings represent the union of manufacturing processes and technologies that enable Moog to offer large, high volume slip rings with advanced features that are cost effective. The manufacturing processes allow the slip ring to be built in an assembly line fashion that significantly reduces delivery time and price.
Features
Platter or drum configuration 
Diameters exceeding 70 inches (1.7 m)
Rotational speeds to 300 rpm 
Power rings rated up to 1000 V 
Power rings rated up to 300 amp 
Quiet mechanical system operation 
Low maintenance requirements
Multiple brush tip options with minimal debris 
Capability of adding integral encoder, multiplexer, fiber optic rotary joint and non-contacting data link
Multiplexing: multiple bidirectional signals to minimize ring count
To learn more, view the large diameter slip ring technical data sheet.
 
Fiber Optic Rotary Joint (FORJ)
Large bore optical rotary joints for high speed optical communications with aggregate data rates exceeding 40 Gb/s. This patented technology also has the capability to transfer multiple data signals per optical channel.
Integrated directly into slip ring or can stand alone
Inherent EMI immunity
Multiple electronics options (single channel, multi-channel, FPGA)
Significant system health diagnostics 
 To learn more, view the optical rotary joints data sheet.
 
Non-Contacting Data Link (NCDL)
Large bore non-contacting data link for high speed data communications with aggregate data rates exceeding 5 Gb/s.
Integrate directly into slip ring or can stand alone
Bidirectional channel support
Requires less footprint than FORJ option
Modules packaged within footprint of slip ring
To learn more, view the non-contacting data link data sheet.
Part Number
Type
ID*
OD*
High
Power
Qty
Mid
Power
Qty
Signal
Qty
High Power
Voltage VAC
High
Power
Current
(cont.)
Speed rpm
CT6455

Drum
31.952
35.044
4
2
8
480
100 A
120
CT6764

Drum
37.400
39.984 
4 
2 
0 
480
100 A
120
CT7013

Platter
38.590 
56.194 
4 
2 
4 
400 
100 A
180 
CT7311

Platter
39.622
54.818
4
2
4
380
100 A
180
CT7093

Platter
42.520 
54.100 
3 
2 
4 
500 
100 A
180 
CT7138

Platter
42.047 
54.094 
5 
0 
4 
400 
100 A
120 
CT6970

Platter
44.291 
59.916 
3 
2 
6 
600 
100 A
180 
CT6536

FORJ ONLY
39.624 
43.040 
 -
 -
 -
 -
 -
300
Typical Applications
Medical CT scanners
Luggage scanners
Amusement rides
Cranes
Offshore mooring
Non-destructive test equipment
Industrial 3D imagining equipment
Visit Our Blog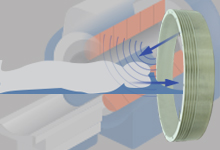 Want to learn more about the key elements and features of Moog CT slip rings?