Reconfigurable Integrated-weapons Platform (RIwP®)
Proven Capability and Capacity to Host Maximum Multi-Domain Lethality Payloads
RIwP is a proven, modular, and scalable remote turret providing unmatched capacity to host multi-domain payloads for current and future ground-combat platforms. This remote weapon platform offers air defense, anti-armor, or multi-mission capabilities via world-class precision medium-caliber and indirect fires.
Designed to be weapon, sight, and platform agnostic, the RIwP (Reconfigurable Integrated-weapons Platform) accommodates firepower growth to support future mission requirements. With survivability in mind the turret allows the warfighter to reload while under armor. This illustration depicts popular configurations to meet the full spectrum of remote turret related missions with a standard cupola being the centerpiece to build tailorable and reconfigurable "plug-and-play" weapons solutions.
Jump To:
Overview
Specifications
Resources
Related Industries
Related Products
Overview
RIwP Advantages
Commonality

The RIwP family of remote turrets shares 85% commonality of subcomponents with all configurations thereby minimizing logistical footprint size and sustainment costs, maximizing training efficiency, and reducing total cost of ownership. 

Survivability

RIwP's design allows the warfighter to reload the direct fire weapons from inside the vehicle under full armor protection. Options for add-on armor are available. 

Field Reconfigurable

RIwP allows for pre-planned mechanical, electrical, and software interfaces to support the swapping of payloads. Payloads can be changed in minutes with organic maintenance personnel and minimal lift capability. 

Proven Capability

RIwP is the centerpiece for the Army's Maneuver Short Range Air Defense Increment 1 (M-SHORAD, Inc 1) program and is supporting numerous other government operational needs.
Dive into where RIwP® has been tested and fielded
GovExec TV's George Jackson joins Moog's RIwP® Business Development Lead, Doug White, to discuss the Moog's Reconfigurable Integrated-weapons Platform's capabilities.  They discuss where RIwP® has been tested and fielded, how it addresses specific missions, and the integrations to look for next.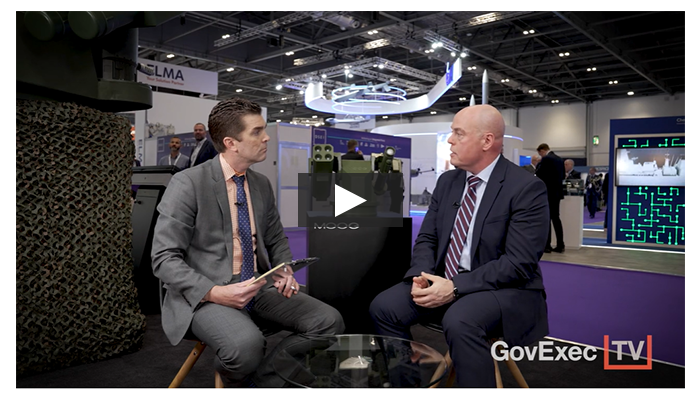 ---
Specifications
The Payload and Platform Agnostic RIwP
The RIwP has the ability to support a wide range of weapons and sights, RIwP can be built to fit your mission's purpose from air defense, anti-armor, to multi-mission situations.

Guns
XM914
XM813
M2
M240
MK44
30 x 113mm
30 x 173mm
.50cal
7.62 Coax

Missiles
Air Defense Missile
Multi-Mission Missile
C-UAS Missile
Anti-Armor Guided Missile
70mm Rocket
Stinger
Hellfire
Coyote
Brimstone
Javelin
Starstreak
Spike ER2
APKWS
JAGM
TOW
Mistral
Talon
Missile Moyenne Portee (MMP)

Sights
MX-GCS
RV-TAS
PASEO
IBAS
LRAS3
MITAS
DNGS
Orion
LOTHER
SEOSS
Gunners Sight
Commanders Sight
EO Sight
Panoramic Sight
Independently Stabilized
Optical Sight

Platforms
Wheeled Armored Fighting Vehicles
Tracked Armored Fighting Vehicles
Robotic Combat Vehicles
Containerized Platforms
Stryker
MATV
MRAP
Boxer

Other
Non-Lethal Effectors
Directed Energy
Smoke grenades
Projectile grenades
Acoustic hailer
Laser dazzler
Laser designator
Video Gallery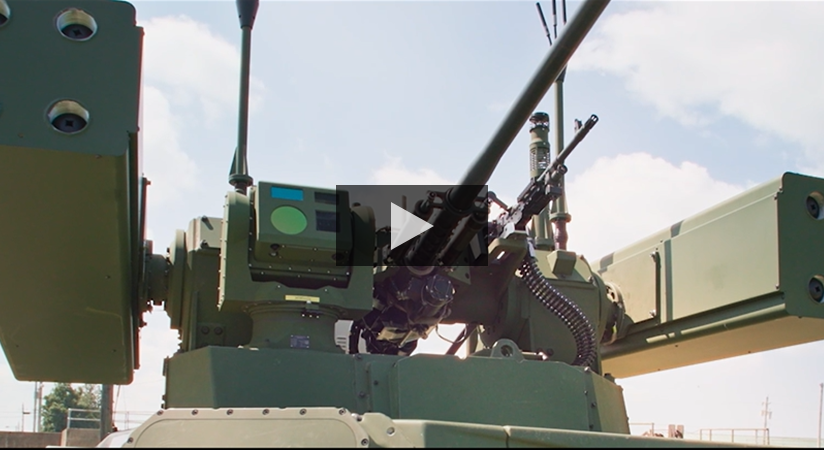 See Moog's RIwP turret defeat drones from GDLS' Tracked Robotic 10-ton (TRX) platform.
GDLS Copyright 2023
RIwP Live Fire Testimonials
Reconfiguration Capabilities
Resources
---
Datasheets, Brochures and Catalogs
Related Industries
Defense
Moog is recognized by military forces around the world for its industry-leading solutions, which include counter-unmanned aerial systems (C-UAS), fast ammunition handling, precise missile steering, weapon stores management, turreted weapon systems and quiet undersea actuation
Missile Systems
Moog provides precision steering controls for the missiles market through the application of industry leading products such as fin control actuation as well as divert and attitude control thruster valves.
The appearance of U.S. Department of Defense (DoD) visual information does not imply or constitute DoD endorsement.