Missile Simulator
Rail Mount Version AGM-114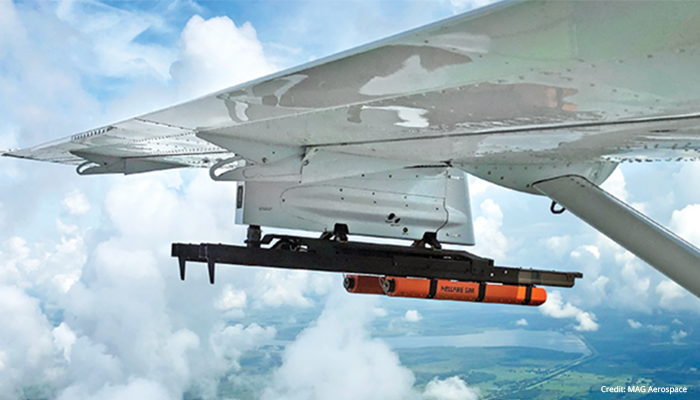 Jump To:
Overview
Specifications
Resources
Related Industries
Related Products
Overview
Full simulation of HELLFIRE II missiles AGM-114F-K,P,R
Full simulation of Longbow Hellfire missile AGM-114L
Simulates missile in tracking and non-tracking modes (LOAL and LOBL)
Real-time monitoring/recording of all critical signals during standby state, initialization state, launching state, and post launching state
Missile simulator, stray-voltage monitor, launcher/system tester
HELLFIRE rail-mount design with an interactive wireless webpage
HELLFIRE launchers supported include Moog Dual Rail Launcher (DRL), M310, and M299
Replaces HELLFIRE Captive Air Training Missile (CATM) or Longbow Captive Flight Trainer (CFT) 
Flightworthiness tested and MIL-STD-810 tested
Incredibly lightweight – 10 lbs.
Simulates seeker functions

Specifications
| | |
| --- | --- |
| Parameter | Performance |
| Connectors | MIL-STD Connectors |
| Communications | IEEE 802.11, Ethernet 10/100 Wired |
| Tested to:* | MIL-STD-810, MIL-STD-461, MIL-STD-704 |
Resources
---
Datasheets, Brochures and Catalogs
Related Industries
Missile Steering
Moog provides precision steering controls for the missiles market through the application of industry leading products such as fin control actuation as well as divert and attitude control thruster valves.
Turreted Weapons
Moog provides integrated turret design for Missile Launch Pedestals as well as their Reconfigurable Integrated-weapons Platform (RIwP®)
Naval Systems
Moog designs and manufactures high-precision motion control and electronic solutions for many of the world's leading naval forces.
The appearance of U.S. Department of Defense (DoD) visual information does not imply or constitute DoD endorsement.