Hexapods & Positioning Systems
Hexapods & Positioning Systems
A hexapod is a robotic manipulator capable of moving a payload in all six degrees of freedom: lateral, longitudinal, and vertical translations as well as roll, pitch, and yaw rotations. Motions can be made simultaneously in multiple axes or independently in a single axis while preventing movement in the others. A hexapod's parallel actuator arrangement provides high load capacity, stiffness, and accuracy compared to other robotic manipulator architectures. Product models are distinguished by their actuation, sensing, control system, payload capacity, range, resolution, and bandwidth. Hexapod applications can be divided into three primary categories: precise positioning, motion simulation, and vibration isolation.
Positioning and Pointing

Hexapods can allow a payload, such as an optic or laser source, to be precisely aligned and oriented relative to another object even as thermal or other forms of drift continually create misalignment. They can be used for space vehicle docking systems, munitions loading, assembly line positioning, surgical systems, and end effectors for serial manipulators.
Document Downloads
Vibration Isolation and Control

Hexapods can also isolate payloads, including cameras or sensitive measurement instruments, from ground vibrations or aircraft jitter that would otherwise result in image blur, measurement errors, or potential damage. They can be used for weapons stabilization, optical jitter isolation, isolation of industrial machinery, and isolation of sensitive measurement equipment.
Document Downloads
Motion Simulation

Other motion control devices can generally only provide positioning, motion simulation, or vibration isolation in one or two degrees of freedom, but hexapods are often the ideal solution when motion is required in three or more axes. They can simulate road conditions for a vehicle suspension system eliminating costly field testing, flight simulators, missile tracker simulations, simultaneous multi-axis vibration testing, disturbance sources, and motion theater rides.
Document Downloads
Custom Systems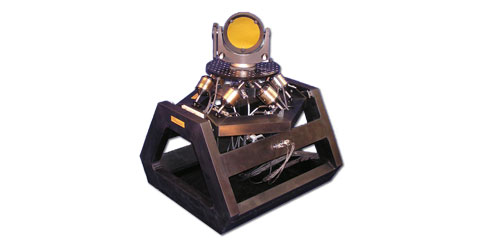 Moog CSA has designed and delivered a large number of custom and semi-custom hexapods for a wide range of payload sizes and application requirements. Experienced with several types of actuation enables us to leverage previously developed technology to meet unique customer needs at a reasonable cost.
We also build octopods for specific applications, which use eight struts or legs. Sometimes the mechanical design of the complete system, and the particular geometry and loading environment, dictate that an octopod rather than a hexapod be used for an application. Most often, an octopod becomes more appropriate when the payload or object being supported is more rectangular than circular in shape. For payloads mounted in an aircraft or other vehicle, an octopod provides advantages for dealing with high-G loads.
Reduced degree of freedom systems have been built by Moog CSA as well. This can lower hardware costs and system complexity when motion is only required in two or three axes. Occasionally, higher (greater than six) degree of freedom systems are needed. Redundant degrees of freedom may be used if both low frequency, large range motions and high frequency, short range motions are required.