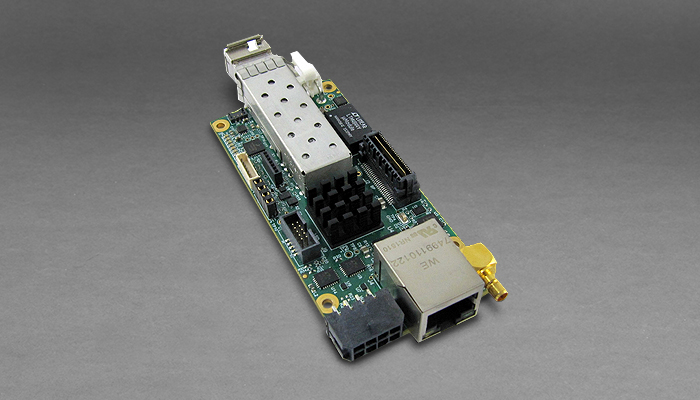 HD VIDEO, ETHERNET AND SERIAL DATA MULTIPLEXER
The Model 914-HDE motherboard is the core of the 914-X series modular multiplexer system. It can operate as a single card system providing an extremely compact solution for High Definition (HD) video, Gigabit Ethernet and multiple serial data channels. An expansion interface allows for the addition of up to eight (8) 914-X series expansion cards. Optical rates up to 6 GBaud per fiber wavelength reduce optical costs and increase signal density.
The 914-HDE fiber optic multiplexer combines Focal's expertise in Time Division Multiplexing (TDM) and replaces multiple media converters and optical multiplexers reducing size, weight, power and cost.
The 914-HDE supports advanced features, such as: real-time diagnostics over a dedicated RS-232 channel, field-upgradable firmware, and software configurable Ethernet, serial and video ports.
Diagnostic readings may be accessed via an RS-232 serial link in real time by using Focal™ Graphical User Interface (GUI) software, based on the Microsoft® .NET Framework, or by using a customer's own software configured to read Focal's serial ASCCII protocol or Modbus ASCCII format.
Jump To:
Overview
Specifications
Resources
Related Products
Features
Supports SD-SDI, HD-SDI and 3G-SDI video
Supports Fast Ethernet and Gigabit Ethernet
Supports two non-isolated, configurable serial channels for camera controls and sensors
Real-time diagnostics and Graphical User Interface (GUI)
Rugged design for harsh environments
Expansion connector for added interfaces
Composite Video
Ethernet
Serial Data
Sonar
Hydrophone
CANbus
Responder/Trigger
LED header for enclosure diagnostics
Reclocked video
Benefits
Reduces cost and size of systems requiring HD video
Ethernet and serial interfaces
Supports a wide range of optical options, including CWDM wavelengths and multi-mode configurations
Simplifies troubleshooting with advanced diagnostics
914-HDE Specification

Optical Fiber

1 or 2 singlemode (9/125 μm)
Latency
< 20 μs (not including fiber)
Baud Rate
4.0 GBaud standard, 6.0 Gbaud optional
Wavelength
1310/1550 nm or CWDM
Optical Budget
> 20 dB
Power Voltage
+4.5 to +13.5 VDC 
Power Consumption
5 W typ., 7.5 W max.
Expansion cards add additional power consumption
Protection
Overvoltage, reverse voltage, under voltage, time-delay fuse
Dimensions
40.6 mm x 88.9 mm
Weight
< 80 g (0.18 lb)
Options
Bidirectional transceivers, higher or lower optical budgets, multimode, higher optical data rates for 3G and GbE
LEDs
Power status, video status, optical status, serial activity, Ethernet status and activity
RS-232 to PC
Diagnostics from remote and console through GUI for system status and configuration
Optical Connectors
1 or 2 LC (SFP)
Video
SMB, 75 Ω
Ethernet
RJ-45
Serial
Molex MicroFit, 8-pin
Power
Molex, 0.156" spacing, 2-pin
Temperature
10 °C to + 60 °C, operational
-40 °C to + 85 °C, storage
Humidity
85% RH, non-condensing
Vibration
5 g, 25 - 1000 Hz, 3 axis
Shock
30 g, 11 ms half sine, 3 axis
Options
Extended temperature
Resources
---
Telephone:  +1-902-468-2263