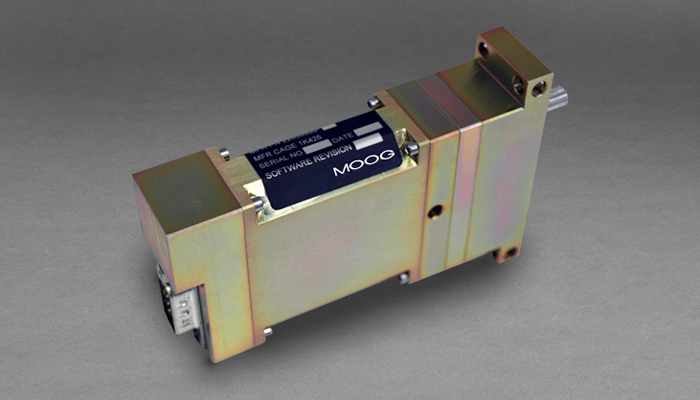 Jump To:
Overview
Models and Specifications
Resources
Related Markets
Related Products
Moog has been developing specialized high technology and utility electromechanical actuators for over 35 years. Our capability includes in-house design, manufacturing expertise, engineering support and qualification for these products.
Products range from 25 to 2,500 in-lb for rotary and 100 to 2,000 lbf for linear configurations. We can offer our assemblies with integral servo control electronics. Moog offers a variety of communication interfaces including analog, (+/- 10 VDC for example), RS232 / 422 / 485, R/C PWM and CAN Bus. We design for redundancy if required by our customer.
Moog is a FAA certified repair station and can offer hardware in support of repairs, upgrades or overhauls.
FAA / EASA Approved Repair Station Location, Blacksburg, VA

FAA Repair Station: 21MR057C
Cage Code: 99932
AS9100:2016 Certified
ISO9001:2005 Certified

1501 North Main Street
Blacksburg VA 24060-3127
USA Tel: +1-540-552-3011
Fax: +1-540-557-6719
These products were previously manufactured at Moog's Springfield, PA, facility.
CUSTOM DESiGNS
Moog's experience makes us familiar with numerous types of rotary electromechanical actuation requirements. We offer our customers a solution from dozens of product configurations or a baseline design. We recognize that it is not always possible to utilize an existing design, so we are equally comfortable in offering customization to meet individual customer needs. Customizations often include expanded angular deflection, unique mounting provisions and/or relocation of connectors or other mechanical parts. Moog works closely with each customer to help select the appropriate model with a focus towards meeting program milestones and goals.
Moog is committed to work with our customers in providing a solution to customer specific requirements if an existing design is not available. We are experts in design, development, qualification and certification. In addition to the hardware development, our sites include program management professionals who can support SDRL creation, milestone reporting and overall risk mitigation. Moog offers extensive engineering experience in mechanical, electrical and system disciplines to our customers.
Models and Specifications
Actuator Model
Size (inches)
Load Torque (in-lbs)
Power Point
Stroke (degrees)
Weight (lbs)

220*

0.9 x 2.7 x 4.1
(0.9 x 2.7 x 5.7 with extra gear pass)
50 Rated
75 Peak Stall
(80 rated with extra gear pass)
25 in-lb @ 250°/sec
(50 in-lb @ 130°/sec w/extra gear pass)
±45

0.59

(< 1 with extra gear pass)

820*
1.5 x 3.2 x 4.3
80 Rated
150 Peak
105 in-lb @ 140°/sec
0 - 90
1.8
863*
1.6 x 4.1 x 4.5
105 Continuous
320 Peak
210 in-lb @120°/sec
±45
2.0 Max
905-01 / 04
2.3 x 4.9 x 5.4
150 Rated
300 Peak
Consult Factory
±33
3
915
4.95 x 4.5 x 6.2
300 Peak
Consult Factory
±46
7
935*
2.3 x 4.8 x 6.6
150 Rated
600 Peak
350 in-lb @ 120°/sec
(RC/PWM: 280 in-lb @ 60°/sec)
±45
3.9
965
3.5 x 7.1 x 9.8
2,200 Rated
2,500 Peak
2,200 lb-in @ 45°/sec
±90
11.5
971
3.0 x 3.48 x 6.56
15 Rated
200 Peak
Consult Factory
±30
3.2 Actuator Only
*Servo actuator with integral electronics

Resources
---
Actuator Product 3D Models
Related Industries / Markets / Applications
Helicopters
High-performance helicopter solutions meet the demands of rugged environments.
Armored Vehicles
Reliable power and data transfer in the most demanding batterfield conditions.
EO / IR Systems
Vast amounts of electrical and data signals transmitted across rotating axes.